NCL Getaway - Spur of the moment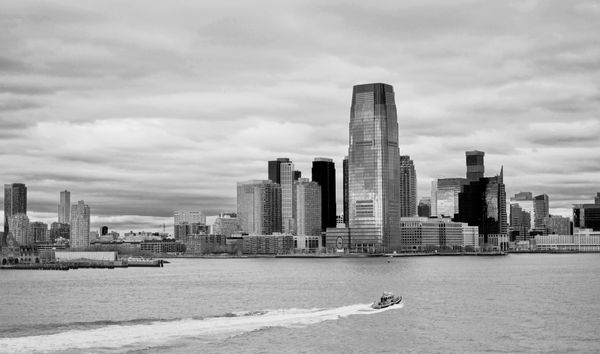 With only a month before my next trip, figured it's about time I catch up on a couple of trips from earlier this year.  Brief posts to be sure though.
Early in March I was daydreaming and looking into cruises on NCL to use up some of the credits I had sitting on my account.  Ended up stumbling across a sailing out of NYC to Orlando, Nassau, and Great Stirrup Cay that had no solo supplement.  Brought up club balcony suite down to well under $1k all in, I'm not going to say no to that!  A quick text to my boss to get the time off and it was booked moments later.  Flights about cost the same as gas and parking for the week, and AA had a flight landing about 8am so made the RARE decision to fly in the morning of and just get a transfer from NCL to the port.
That's about all the planning I did for the week, didn't even pack until about an hour before catching an Uber to the airport.
Saw our ship coming into port on the flight in!
Had a bit of a delay at the airport since we had to wait for people on a delayed flight before the transfer bus would leave, but by 9:30 I was in line for check in at the port and ready to go.  Check in took awhile, it looked like they were heavily short staffed, but it worked out.  As soon as I got my pass they called general boarding and I waked straight onto the ship, to the 30 second muster, and then beelined for guest services to see about a Vibe pass.  I needednt have worried, they only sold 22 passes total and don't think I saw anyone other than the bartender all week up there...
Still, glad to have them and an obligatory selfie to send to Shane and Kat who I'd met on the Breakaway during my Christmas cruise in 2019.
A cruise out of NYC in winter's a new experience for me.  I've always gone out of FL or LA and the weather's been warm the entire time.  This week, the first couple days and the last day were chilly at best.  Not that I didn't still find a way to spend most of the day at the pool bar, but it was sweatshirt weather for sure.  
Another first is the solo meet was self led all week, although the cruise director stopped in a couple of evenings, there wasn't one of his staff organizing dinners, shows, etc.  Worked out well though, there was an interesting core group that met up most evenings and grabbed dinner, hit up Syd Normans, or just planned for a morning in the hot tubs.  The first night we all decided to try the Ice Bar
Wear shoes.  Don't be like me.
Syd Normans is amazing as always.  This was the first week this group was on board and they killed it.  I wish I'd gotten to see them after they've been preforming for awhile to see how they improved.  Alas, taking with a friend who was on last month there were some cast changes but still great.
Kept running into this dude all week too, he insisted on a selfie together to show our matching beard styles.
Looking back, I kinda regret not taking more pictures or at least some notes about what went on for the week, but I'll have another chance in about a month to correct that!