Adventure of the Seas - Embarkation day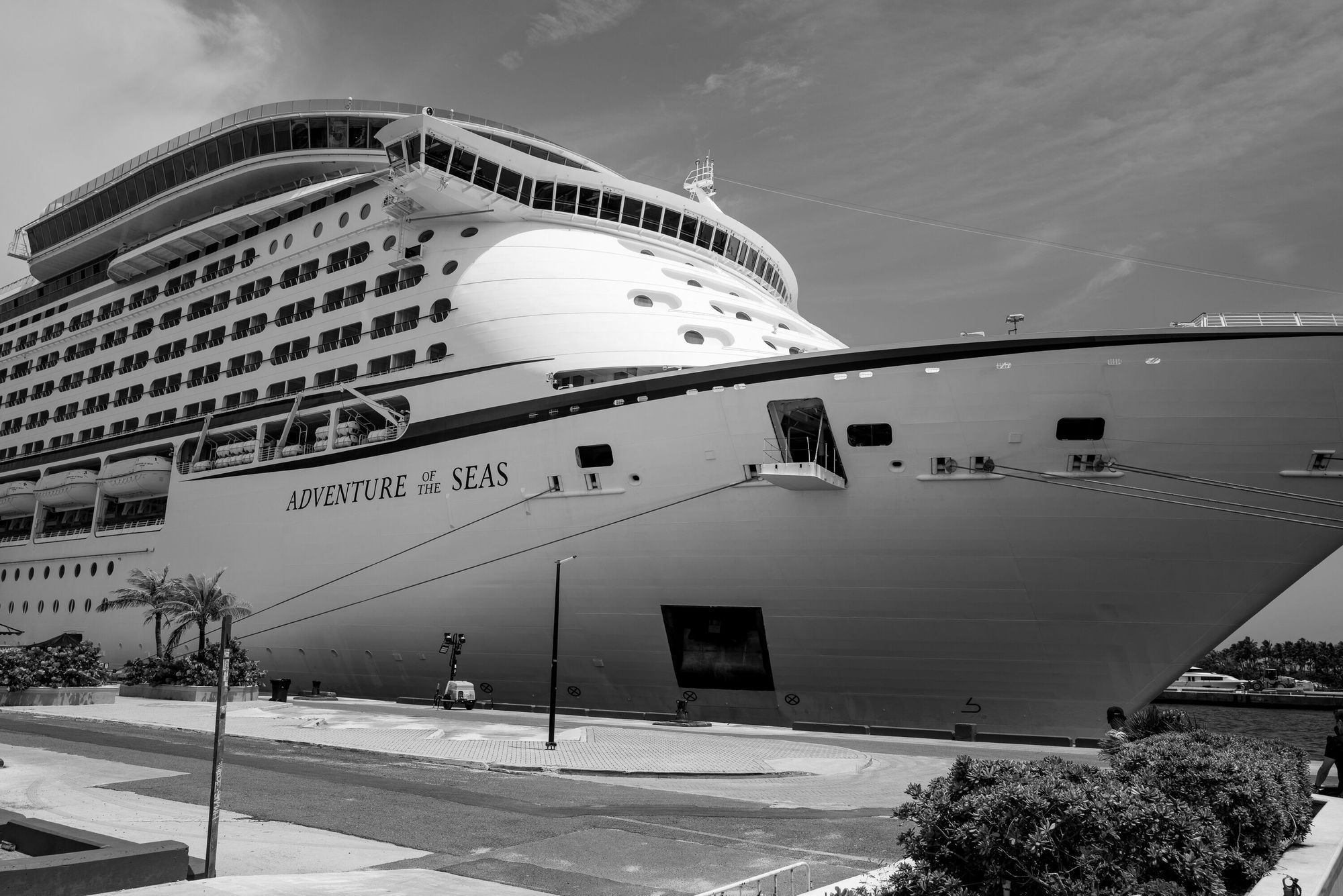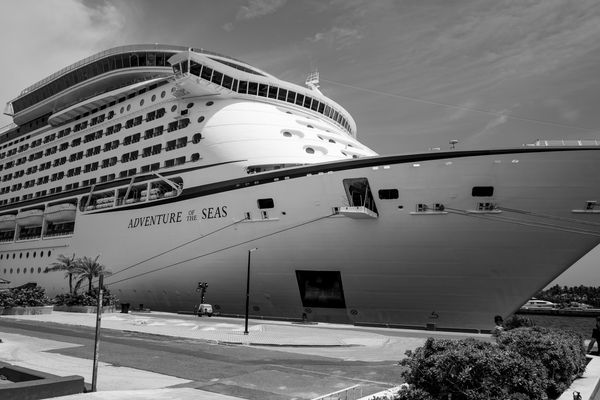 Morning started a little rough, there may have been a few gin and tonics the evening before, so even though I called it a fairly early evening when I woke up I was a little under the weather.  A nice shower and a bottle of water with some propel powder in it perked me up just fine.  
I'd hoped to wake up in time to catch the Adventure of the Seas pulling into port, and I did! When I woke up it hadn't even pulled into the bay yet....but I lost track of my time in the shower and by the time I got out it'd already moved behind the Crystal Serenity.  Facepalm.  Next time.  Luckily it gave me a pretty decent view from my window.
Not a bad view to start the morning with.  Have to say, already loving traveling with a camera that has a single prime lens and no color.  28mm is fantastic for color and having made the choice to go for black and white only meant I focused on different things when it came to photography.  While I may bring a color camera for my next trip, I've never had such a good time photographing a trip.  This will probably be it's own post at some point going through a change in my travel photo kit, but suffice it to say, knowing that everything will be black and white and with a 28mm focal length was freeing.  Just pick it up and take it with me wherever I went.
Ok, back to the morning.  Having got a quick glimpse of the ship it was a good time to get dressed and get out of the hotel for a walk.  Most of the morning photos can be found in the first post but I did manage to get a couple more of the ship itself before the sun fully came up.
Fine, it was one photo.  Unfortunately a lot of the area was blocked off for construction and with the Serenity in front and having arrived first... not much better would be had until later on.  
Spent some time wandering around the grounds of the hotel just taking in the piece of the morning before everything started waking up.  Eventually I headed up to the room to drop off my camera, I wanted to walk around downtown for awhile but didn't really want to take a lot of pictures.  Partly because it was somewhat sad to see how much of the area was closed still and partly because I wanted to just enjoy a walk, focus on the moment more than a photo.
Looking back, right choice.  I wandered around down to Junkanoo beach and then back to the port, just criss crossing through side streets and through the shopping district.  So strange being here when there's nothing much going on.  A few shops were starting to open up since there were cruise ships in port again, but they were few and far between.  Could have been partly because it was independence day for them, but mostly because tourism was just destroyed over the last year.  It'll take some time to come back.
Anyways, after a couple hours I made my way back to the hotel, but don't think that was some great endeavor, I was just meandering so wasn't too far away at all.  By this time everything was waking up a bit more, the streets had a decent amount of traffic and looks like people were arriving hours early for their check-in for the cruise.  I know, shocking that people would do that.
Took another shower in my room and repacked my bags before heading down myself.  Since I'd stayed there it was easy, checked out at the front desk and walked across the lobby to drop off my bag.  Nothing to do for about an hour and a half before I could check-in so headed out to the pool to relax and read a bit.  Yeah, the Bahamas doesn't really cool down at night and a morning with high humidity and about 85, and the pool bar still closed?  Back inside for me after a bit.  
Actually ended up finding a few people who were part of the roll call sitting around in the restaurant and introduced myself and met a few great people.  Made the time before check in go by amazingly fast, especially considering we were all anxious to get onto our first cruise in ages.  I kept running into these guys all week and it made for some great company.
Well, around 11:50 I decided to see if they were ready for the onslaught they were about to get since I had a noon slot and they indeed were.  From here, I don't think I ever stopped until we got to the ship, it was just assembly line precision.  Went up to the area and every 10 feet or so there was someone directing you where to go, what paperwork to get out for the next person, etc etc.  They verified my check-in on the app, that I had my vaccination card, and that I had the negative PCR test from before leaving, gave me a sticker and down to the shuttle.  I think the entire process took maybe 2-3 min and in no time I was standing outside with half a dozen other people waiting for the shuttle to take us to the port.  Jumped on, they drove us right over...and the ships were right there.
Oh what a sight.  I hadn't been this close to a ship since getting off the Norwegian Breakaway after Christmas in 2019.  It was starting to feel real.
There was still a ton of construction going on at the port getting the new one built, but no way was that going to ruin this day.  Just made for an interesting walk down the dock to the ship with some scenery along the way.  To be honest, I didn't look at much other than the ships though anyways.
Some short delays at security, evidently none of the group in front of me had working sea pass cards, either on their phone or printed out, so until they routed them off to a secondary desk we just had to wait.  Resolved within a few moments though and right on board with everyone welcoming us back! Oh what I great feeling it was to hear that "ding" when they scanned my pass.  If you've ever been on a cruise you know exactly the one I'm talking about.
On the roll call for the cruises before us a few people had mentioned having trouble getting good dining reservations, mostly with Chops, because while the ship was only partly full distancing measures drastically reduced capacity for the restaurants as well.  I'd got the UDP (unlimited dining package) which allows you to eat all your meals at specialty restaurants (if they're open) so I wanted to make reservations as soon as possible.  If it were just me, I'd have happily eaten at Izumi for every meal but since I had a friend along that I'd be eating with I wanted to make sure we could get a variety of different meals.  So, first thing I did was head off to Chops to make my reservations.  Shouldn't have worried, I got either 7 or 7:15 every evening, Izumi the first night and then alternating Chops and Giovanni's for dinner.  I'd do my lunches at Izumi.  
With that taken care of, I wandered up a deck and dropped into the Duck and Dog for my first drink of the trip, Botanist and tonic, slice of orange.  Sat down for a few to decide what to do and realized I was hungry, I hadn't eaten since around 7 the night before.  Sadly, Izumi wasn't open for lunch...turns out that with the Sushi and Sake paring on day 5 (which I'd already bought), the only day they were open for lunch was day 7.  No worries! I took my drink and headed down to Chops again to have a fantastic lunch.  
Man, I'm a big guy, but holy hell do they try to shove a ton of food on you.  I don't eat dessert often as it is, I'm absolutely not having it for lunch, or most dinners for that matter.  For whatever reason, I tend to eat better on a cruise than I do at home.  Maybe I should just move onto one, you know, for my health.  Yeah, that's it.
By the time I'd gotten all that taken care of, it was time to go do my muster drill.  So first, I love the new muster.  Took a few min to do most of it in the hotel before boarding and then maybe 2 min at my muster station with those guys.  As luck would have it, for me at least, Jordan Bauth was manning my station so I got to meet her briefly.  Incredibly talented skater, you'll see more of her and the rest of the amazing cast of "Cool Art Hot Ice" at some point later.  Or now if you go to Flickr.  Or her youtube channel.  Your choice, I'm not your boss.
No sooner had I finished that and they announced that the cabins were ready.  Figured I'd go and drop off my messenger bag and see the room before starting to explore the ship some, walking down the hall though I saw my bag sitting there too.  Everything's coming up my way this trip already!  Figured I'd just get unpacking out of the way right away so I didn't have to deal with it later, and took a quick look out from the balcony.
I didn't have the best view.  It's Nassau, what can you expect.  Honestly, balconies in general are wasted on me anyways.  If I'm traveling solo, unless I have work to do I don't spend any time on them.  I'd rather be on the pool deck or some other venue, even if I'm just reading and minding my own business. Room steward "Mel" stopped by to introduce himself, nice guy.  I wish I'd taken pictures of his towel animals.  Side note, it was strange getting towel animals again, I kinda liked it though.
Unpacked, lunch done, muster done, but I still haven't been to the pool deck!  Time to rectify that!
These guys were actually great.  They played on the pool deck and in Boleros, really got into the music and the main singer had some moves too.  I spent a decent amount of time just relaxing up there and reading.  Took some time out to just decompress and sit, this is when it really made me realize I was back on a cruise again.  The music, a drink in hand, seeing people splashing in the pool already, and bar waiters roaming around to make sure you were never empty.  It's a feeling that isn't replicated in any other vacation, and I missed it.
Took a couple of photos that afternoon, but mostly just relaxed and enjoyed.  Kept running into people that I'd seen on the flight in, at the hotel, or on the roll call so some good conversations were had.  Sometime that afternoon I got a text from Kelly that her flight had arrived and she was at the hotel checking in.  Let her know our dinner plans so we could meet up then.
Rest of the afternoon flew by.  At some point I went back to the room to change into jeans and shoes for dinner and met up with Kelly for Izumi.  I could eat sushi every day, all day.  And these guys were great.  Was it the best I'd ever had? Naw, was it pretty damn good? Oh yes.  We ended up spending a couple hours there just catching up, didn't even realize that the ship had started to move.  
Decided to get some fresh air after dinner and the roll call was going to meet up at the Sky bar outside a little before 10.  Well...rain.
I sat up there for a few min and ran into a couple of people who were planning on going, we headed down to the Schooner bar to see if anyone showed up there.  The short answer is, yes, they did.  The long answer is yes, they did but it took us awhile to realize who we all were and bring half a dozen different smaller groups all together.  You'd think that seeing our profile pictures for months would have made that easier.  I'm also highly recognizable evidently.
That's about all I'll say about the evening, kinda avoiding posting photos of people and the rest of the night was just spent drinking and talking with everyone.  I called it a fairly early night again, a couple of really long days and a fair amount of Botanist gin was just taking a lot out of me.  
I'm not going to do this as a daily blog going forward, maybe on a future trip, so the next post will either be about the ship itself, the entertainment, CocoCay, or maybe something else that I haven't though of.  Like a full accounting of all the drinks I had over the course of the week...but probably not.  No one's ready for that, especially my liver.